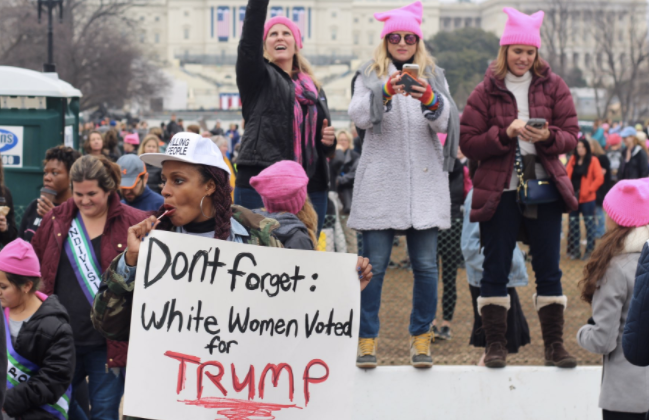 One black woman attended the Women's March on Washington with an extremely important message for white women.
Angela Peoples, the director of LGBTQ empowerment organization GetEQUAL, marched on Washington with a sign that was a little different from the go-to "This pussy grabs back" and "My body, my choice."
In a now-viral photo, Peoples is wearing a hat that reads "Stop Killing Black People" and holding a sign that says "Don't forget: White women voted for Trump." Behind her are three white women in pink pussy hats taking pictures.
The image, taken by photographer, co-director of BLACK and Peoples' boyfriend Kevin Banatte, highlights the ongoing issue in our shared resistance against President Trump's administration: Intersectionality in feminism is integral, but so often ignored by white women.
While we can assume that most women who attended the march didn't vote for Trump, the photo serves as commentary on how important practicing true intersectionality ― not just social media feminism ― is in resisting this administration. It's also a necessary reminder that many white women who attended the march have yet to face or even grapple with their white privilege and how it had a hand in electing Trump to the White House.
In an interview with The Root, Peoples explained that she brought the sign because she wanted "to be really honest about why we're here." She said that many white women were defensive, telling her "Not this white woman" and "No one I know!"
In response, Peoples' said: "[Fifty-three percent] of white women voted for Trump. That means someone you know, someone who is in close community with you, voted for Trump. You need to organize your people."
If you're a white woman thinking, 'What's next? Everything seems insurmountable,' welcome to the fucking party. Listen to a black woman.

Angela Peoples
She explained why the photo is so powerful and the reason it sparked such an important conversation:
It tells the story of white women in this moment wanting to just show up in a very superficial way and not wanting to do the hard work of making change, of challenging their own privilege. You're here protesting, but don't forget: The folks that you live with every single day ― and probably some of the women that decided to come to the march ― voted for Trump, made the decision to vote against self-interests to maintain their white supremacist way of life.
In arguably the most powerful part of her interview, Peoples' addresses white women directly.
"I would actually say to white women, if you want to be a part of a powerful movement that's going to get something done, you need to get behind and trust black women, trust black femmes, trust black trans women. Because we are making this way out of no way," she said. "If you're a white woman thinking, 'What's next? Everything seems insurmountable,' welcome to the fucking party. Listen to a black woman."
Definitely head over to The Root to read Peoples' interview in full.