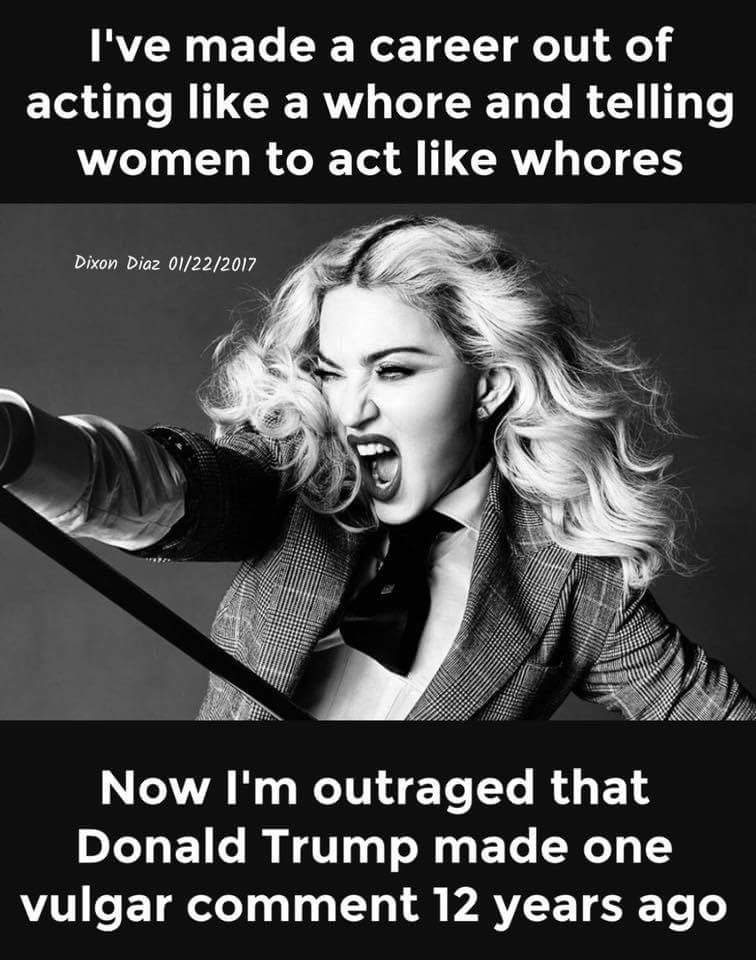 This picture of Madonna came onto my timeline last week, while another picture with Miley Cyrus and Lady Gaga made its round on Twitter and was made famous in the Afrikaans media by rugby commentator Kobus Wiese. Any person serious about violence against women and ending rape culture should not endorse this.
Let me start with Madonna. The irony of the name does not escape one if one thinks of the Madonna-whore complex coined by Freud, where women are seen as either being the Madonna - the good faithful wife, the wonderful mother the woman men respect - or the whore - the woman that men desire. The complex goes (and this is my laymen's interpretation) that women are taught to be either the one or the other (and with a good shot of Christian schooling the emphasis is often on the former). The argument that Freud make is that "[w]here such men love they have no desire and where they desire they cannot love." It thus seems to be an either/or. This often leaves women who are the Madonna, to not freely express their sexuality and their sexual desires.
In the 1980s and 1990s Madonna became a symbol of women's liberation. A woman that was not afraid to break down barriers, to make clear that women also have sexual desires and that women can also express it freely. That women are in control of their lives. As a sex symbol, she embodies sexual freedom and sexual expression. And of course, people stereotype her because of this. While she might make some people cringe, and while some people might hate her, one should not underestimate the importance of Madonna and women's sexual liberation. She pushed boundaries, boundaries that people are clearly still uncomfortable with. (Of course, she was not the only one, but she is the one on in both pictures.)
But the whore side is not about prancing around desirably for men - there is also a sense of sexual liberation in the notion - the fact that women can choose and be vocal about their sexual preferences. Can have healthy outlets for the sexual desires, whatever those desires might be. The trick is, however, to overcome this duality. To integrate. To be both the Madonna, and the whore. In this sense Madonna taught women, and gave them the courage, to be free, to explore their whore side, even if they are Madonna's in other areas of their lives.
Does a woman's sexual liberation and her choice to show whatever parts of her body she wants to whomever she wants give ANY man the right to claim a piece of it?
Does this mean that Madonna, being sexually liberated, asked to be "groped by the pussy" by a man being because he "can do anything"? Does a woman's sexual liberation and her choice to show whatever parts of her body she wants to whomever she wants give ANY man the right to claim a piece of it? No. This is the same mentality that tells a rape victim that "she asked for it." Because she just existed. Because she is beautiful. Because she is lesbian. Because she wore a short skirt. Because she got motherless drunk. Because she is your wife. Because she is naked in bed with you. Because you have done it before. But that is all nonsense.
A woman can be the biggest whore (so to speak), but when she does not consent to sex, if she does not give you permission to touch her on any part of her body, if she does not say "yes" to "grabbing her pussy". It is assault or rape. It is wrong. It should be highlighted. There is a big difference between women being sexual confident and speaking up to what they desire, and a man bragging about how he assaults women. A man who sees women cohabiting with men as an invitation for men to sexually assault them. And if you are serious about ending sexual assault, you should speak up about it, not post pictures that perpetuate rape culture.
So, Madonna can be a Lady Godiva riding naked on Trump's inauguration and he would STILL not have the right speak about women the way he does. Consent matters a great deal. Consent is the difference between Trump's utterances, and Madonna's sexual confidence.
Madonna has every right to be outraged about a sexual predator being president.