A fire broke out about 1 a.m. Wednesday at an apartment building in west London.

The structure, Grenfell Tower, is at least 24 stories and has about 120 units.

The London Fire Brigade said 200 firefighters were on the scene.

A number of people are being treated for injuries, but no fatalities have been reported.

The cause of the fire is unknown.
Flames devoured a high-rise apartment building in west London early Wednesday morning as firefighters rushed to contain the inferno, according to witnesses.
Grenfell Tower, which is at least 24 stories, was quickly consumed by flames even as firefighters tried to spray it with hoses. Witnesses said some people were seen falling from the structure, but there are no official reports of any fatalities. The city's Metropolitan Police have confirmed "a number of people being treated for a range of injuries."
The Guardian noted that some people on the scene feared that people were trapped in the complex, which contains 120 units. A video recorded at the scene appears to include audio of people screaming for help from apartments inside the tower.
The Guardian's Alice Ross, at the scene, said she saw multiple people trapped in the building, waving blankets and flashing lights in an attempt to signal firefighters.
Reporters spoke to several people at the scene who live near the complex and came out to witness the blaze. They described a scene of chaos and flame.
"I heard loads of young girls crying out for help ... I can't see any ladders extending into the building ... I can hear people screaming for help, and they are dying," Sofia, a neighbor, told Britain's Radio 5.
"There was literally two people trapped at the top and they had mobile phones and they had the lights trying to flash them and signal people. ... They couldn't get to them ... fire kept going and the lights went out," a witness, Victoria Goldsmith, told Sky News, according to The Guardian.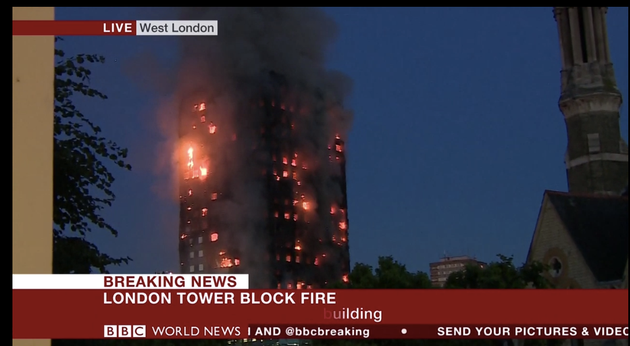 The London Fire Brigade said 40 fire engines and 200 firefighters had been dispatched to the blaze, which had consumed almost every floor of parts of the building.
"Firefighters wearing breathing apparatus are working extremely hard in very difficult conditions to tackle this fire," said Assistant Commissioner Dan Daly. "This is a large and very serious incident, and we have deployed numerous resources and specialist appliances."
London Mayor Sadiq Khan declared the event a "serious incident" on Twitter early Wednesday.
The Metropolitan Police urged people to stay out of the area, in the borough of Kensington and Chelsea, and several people have tweeted that authorities marked off a perimeter around the apartment tower.
Last year, a blog posted to a website that appears to represent residents of the Lancaster West Community, where Grenfell Tower is located, mentioned concerns about fire hazards in the complex as renovations were underway. Severalblogs from 2013 voiced similar fears.
Authorities have said the cause of the fire is not yet known.
This is a developing story, check back for updates.