Scalise and others were practicing for an annual congressional baseball game.

Five people, including the suspect, were transported to a local hospital.

President Donald Trump said the shooter has died from his injuries.
WASHINGTON ― A gunman opened fire on a group of Republican lawmakers practicing for a congressional baseball game at around 7 a.m. Wednesday in Alexandria, Virginia, hitting House Majority Whip Steve Scalise and a staffer for Rep. Roger Williams (R-Texas).
Scalise was shot in the hip, his office said in a statement. He has undergone surgery at the nearby Medstar Washington Hospital Center and is in stable condition.
He was "in good spirits and spoke to his wife by phone" ahead of the surgery, his office said.
Zachary Barth, a staffer for Rep. Roger Williams (R-Texas), was also hit, Williams said.
The attack took place at Eugene Simpson Stadium Park. The gunman, who law enforcement sources identified to the Washington Post and ABC as James T. Hodgkinson, is in custody. President Donald Trump said the shooter had died from his injuries. Law enforcement officials have not confirmed that.
Hodgkinson had volunteered for Sen. Bernie Sanders' (I-Vt.) presidential campaign, Sanders said in a statement. "Let me be as clear as I can be. Violence of any kind is unacceptable in our society and I condemn this action in the strongest possible terms," he said.
It's too early to determine whether the attack was politically motivated, authorities said.
Five people, including the suspect, were transported to a hospital, Alexandria Police Chief Michael Brown said during a news conference Wednesday.
U.S. Capitol Police Chief Matthew R. Verderosa said officers who were injured in the shooting are in stable condition. Witnesses reported that two officers were injured.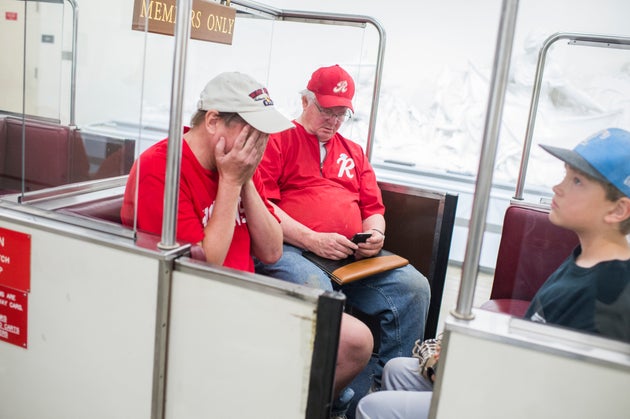 Sen. Rand Paul (R-Ky.), who was also at the practice, told MSNBC that Scalise crawled through the dirt, bleeding, to get away from the shooter. Rep. Mo Brooks (R-Ala.) told reporters that he used his belt as a tourniquet to stop a staffer's bleeding at the baseball field.
Paul said that a number of aides were lying down during the attack as the shooter fired bullets their way.
Capitol Police officers at the event responded and engaged the suspect in gunfire, Verderosa said. Alexandria Police responded soon after. "At that point, we were able to calm the situation and victims were transported to the hospital," Verderosa said.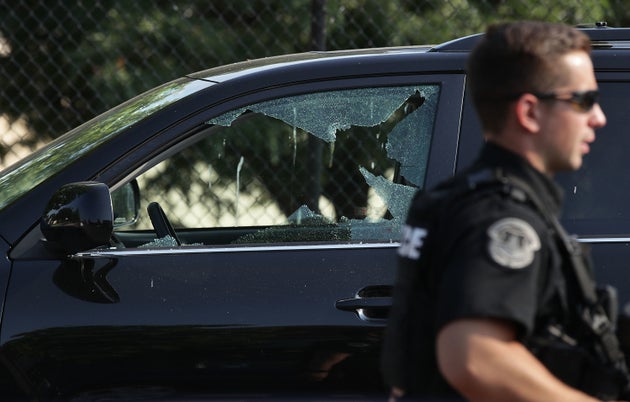 Paul told CNN that "nobody would've survived" had Capitol Police not been there.
"It would've been a massacre without them," he said.
Noah Nathan, 47, lives in a nearby apartment building and was at the dog park when the shooting took place. He said he heard at least 30 shots and got down on the ground, but couldn't see the shooter. "There's no place I could go," he said.
The members were practicing for the Congressional Baseball Game, a Washington, D.C., tradition dating back to 1909. The event pits Republicans against Democrats for a charity event that raises funds for area nonprofits, including the Washington Literacy Center, the Boys and Girls Club of Greater Washington and the Washington Nationals Dream Foundation. This year's game is scheduled for Thursday night.
Police shut down the streets for blocks around the field early Wednesday, and a helicopter was flying overhead.
A lockdown has been lifted at the YMCA Alexandria, located next to the field where the shooting took place, YMCA Metropolitan Washington spokeswoman Dana Rucker told HuffPost. No members or staff were harmed in the shooting, but the building sustained bullet damage.
"They are shaken," Rucker said of YMCA staff. "They're just grateful everyone was able to work together as a team and get out."
Lawmakers from both parties expressed sympathy for the victims. Trump said that he was "deeply saddened" by the news.
"Our thoughts and prayers are with the members of Congress, their staffs, Capitol Police, first responders, and all others affected," he said in a statement.
Many previously scheduled events around Capitol Hill were canceled Tuesday, including an event Trump was scheduled to attend at the Department of Labor. The FBI is taking over the investigation into the shooting, Brown said.
Jay Roberts, 60, lives nearby and said the game was "probably one of the few moments with all this rancor and politics that they can have some normalcy."
"I imagined it would be something fun to watch, you know, because evidently it's partisan politics are put aside, let's have a softball game, let's have some fun," he said.
This is a developing story. Check back for updates.