One person has been killed after a van ploughed into Muslim worshippers in north London, with police treating the incident as terrorism.
A further ten people were injured as people left the Muslim Welfare House on Seven Sisters Road in Finsbury Park, close to the mosque in the area, after midnight prayers during Ramadan. Eight people have been taken to hospital.
Police confirmed the 48-year-old driver of the van was detained by members of public at the scene and then arrested by police.
Despite reports of a knife attack, the Met said there were no reports of anyone suffering knife injuries.
The investigation of the incident is being carried out by the Counter Terrorism Command.
Prime Minister Theresa May said police are treating the van incident near Finsbury Park "as a potential terrorist attack", adding: "I will chair an emergency meeting later this morning. All my thoughts are with the victims, their families and the emergency services on the scene."
One person has been arrested and a HuffPost UK reporter witnessed police detaining a second person several hours after the collision. Authorities declined to comment on the reason for the arrest.
One eyewitness told HuffPost UK (above) before the police confirmation: "Here we have someone who drove into Muslims knowing well this is the finishing time of prayer. Driving in to Muslims deliberately. We know this is a terrorist attack."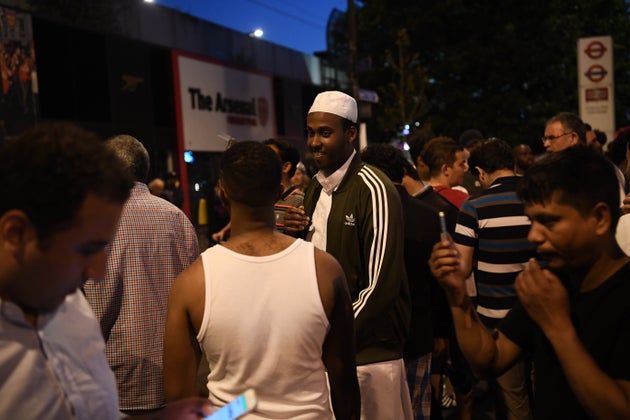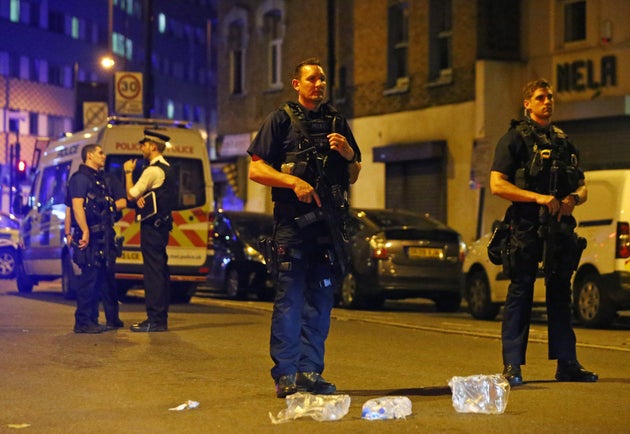 A helicopter could be heard circling over Finsbury Park as police erected a large cordon in the area.
During Ramadan - the name of the ninth month in the Islamic calendar and the holiest time of their year - Muslims fast daily from dawn to dusk and focus on prayer, purification and acts of charity.
This year Ramadan began on May 26 and ends on Saturday June 24.
Video posted online of the aftermath of the attack showed a scene of chaos as people tried to help the injured.
One man could been seen giving CPR to a victim in the street while another man's head injury was treated with a makeshift dressing.
People could be heard shouting and screaming amid the chaos and bloodstains were visible on the pavement.
Witnesses at the scene said an elderly man who had collapsed at a bus stop was being tended to when the vehicle struck pedestrians.
A dozen police officers stood guard on a balmy Monday morning at the cordon at the junction of Yonge Park and Seven Sisters Road while several locals looked on.
HuffPost UK's Paco Anselmi was in Finsbury Park, and witnessed increasingly angry scenes as it took almost five hours to confirm it was investigating terror.
One local resident told HuffPost UK: "One thing that is clear. This happened after night prayer that us Muslims pray during Ramadan. It was clearly an act that was planned and an act that was done with full intention."
Others were irritated what appeared to be a deliberate attack was not being treated as terror.
"If it was somebody with a beard wearing a different type of clothes, you would be calling it terrorism," one local man told the BBC's Nick Robinson. "Our concern is you are the press you should speak the truth."
Another man said witnesses said they saw three people in the vehicle, though police later said no other suspects at the scene have been identified.
Cynthia Vanzella, a woman who lives near the scene, told CNN she heard the collision from her home and went to a window to see people "desperately trying to make some signs to a police car".
"I saw a lot of people injured," she said. "They were helping on the pavement and trying to help them to get to the scene."
The chairman of the mosque, Mohammed Kozbar, described the incident as a "cowardly attack" and said there were many injuries.
Britain's terrorist alert has been set at "severe" meaning an attack is highly likely.
Earlier this month, a van veered into pedestrians on London Bridge, setting off vehicle and knife attacks that killed eight people and wounded many others on the bridge and in the nearby Borough Market area.
Three Muslim extremists who carried out the attack were killed by police.
Labour leader Jeremy Corbyn said his "thoughts are with the community affected by this awful event".