Gallo Images
"I decided to do a wrong turn cos I cant take it anymore. As u said Im broke and useless in bed. Bye-bye."
So ended a suicide note allegedly written by the late actor, Christopher "Gunman" Kubheka, who took his own life in June. The Yizo Yizo star's wife, Cynthia Khumalo, has denied ever saying these words.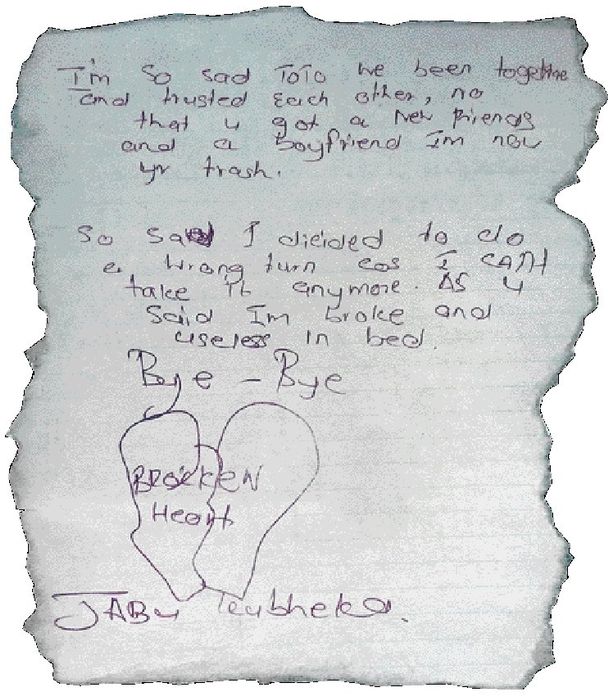 Letter from Sunday World
Kubheka, whom colleagues described as a happy and positive man, reportedly had financial and marital problems towards his death -- and if his suicide note is to be believed, sexual performance issues may have added to his problems.
But are sexual performance issues enough to drive someone to take his life?
While sexologist and psychotherapist, Elmarie Craig, cannot comment on this specific case, she does believe suicide is a very complex matter.
"At times it's myriad reasons, not just one. And although sex is a big issue in relationships, I don't think someone would commit suicide over sexual performance," she told HuffPost SA this week.
Craig said sexual performance issues can, however, lead to conditions such as depression, which, if left untreated can severely impact other areas of one's life. "And for men, in particular, physical intimacy problems can cause performance anxiety, sexual disorders, low self-esteem, and general feelings of inadequacy."
That's because sexual validation is "very, very important to men", points out Craig.
Danny Southern, of penis extender company Men's Locker, concurs. He told HuffPost SA this week: "It is extremely important to men, and a very sensitive issue. I can't tell you the number of clients who tell me that they are looking for extenders because they are worried that they are not sexually pleasing their partners."
"So it's not wrong to say a man's self-concept or how he perceives himself may be directly related to the performance of his penis," says Eugene Viljoen, a clinical psychologist and sexologist.
Craig agrees: "A man's perception of himself as a desirable sexual partner is very important." A big part of a man's definition of masculinity largely involves their sexual prowess, "and this is performance-oriented and focused," adds Craig.
So when a man gets negative feedback over his sexual performance or feels he cannot satisfy his partner, it can psychologically injure him in a very bad way, says Viljoen. "And I can tell you, no man is immune from any feedback concerning his masculinity," he adds.
"Loss of sexual function, therefore, becomes a failure of masculinity and how a man defines himself," Craig points out.
And this idea of masculinity linked to sexual performance starts from a very young age, says Viljoen.
"It's in how men are socialised. Boys grow up being taught that being a man is being strong, not showing emotion and that having sex with a woman is a rite of passage to manhood," he says.
"I have seen boys as young as in Grade 1 have a very large knowledge base about sex," says Viljoen. This suggests they are exposed to sex in their immediate environments at a very young age, the doctor pointed out.
As they reach puberty, compounded with hormonal changes, they have long been psychologically entertaining, thinking and even joking about sex and when they can have sex to prove their manhood.
We need a different socialisation of men, as masculinity is not fixed but changes over time, argues Lindani Hadebe in his paper on Zulu masculinity. South African scholar in masculinity Robert Morrell explains though that it's difficult to define a form of masculinity that is dominant within an African society because of the continent's diversity in race, class and ethnicity. Therefore, one understanding of masculinity and what it encompasses cannot dominate the South African context.
Equally important is the need for more sexual education, suggested Craig.
"Good sex is more function than orgasm. The problem culturally and historically is that sex is penis-centred and orgasm-driven, yet it's not about the destination but the process," a mindset that needs to become clearer urgently.