Denis Balibouse / Reuters
South African retailer Steinhoff International Holdings is selling one of its more high-flying assets as it seeks liquidity to keep itself alive, Bloomberg reported on Saturday.
It is in discussions with a potential buyer of a 2006 Gulfstream G550 private jet that's shuttled executives around the world, according to a source familiar with the situation. The luxuriously appointed craft previously had a price tag of about $25 million (R307 million).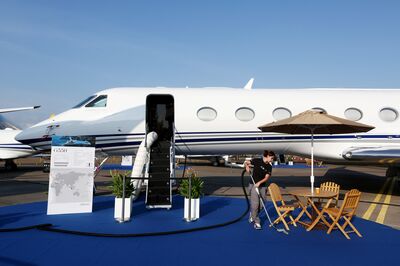 The plane was put up for sale after the company announced on Dec. 5 that it had uncovered accounting irregularities.
The disclosure prompted a plunge in the share price of Frankfurt and Johannesburg-listed Steinhoff, along with the resignation of chief executive officer Markus Jooste and chairman Christo Wiese.
On Thursday, Steinhoff said it was seeking "significant near-term liquidity" for some of its business units.
According to Bloomberg, Steinhoff took delivery of the jet in April last year. It was advertised by Global Jet, an operator of business aircraft, for $24.75 million (R304 million) in 2016. The sale brochure shows the interior fitted out in cream-coloured leather seating, wood paneling and a marble-and-brass bathroom.
The plane, certified for 16 passengers, left Frankfurt on Dec. 3 to fly to South Africa and was last tracked in Cape Town on Dec. 7, according to online flight logs. The jet also made stops in Johannesburg, Vienna and Dublin last year. It's registered with the U.S. Federal Aviation Administration.
Bloomberg reported that Steinhoff, by email, confirmed plans to sell the jet but declined to comment further, saying all of its corporate information is being communicated via the Johannesburg Stock Exchange's news service.
In addition to wiping more than 11 billion euros (R162 billion) off the company's stock value, the accounting scandal has taken a steep toll on the wealth and lifestyle of some of its principals. Wiese, the largest shareholder, has seen his net worth cut by more than half, to $2.3 billion (R28 billion), according to the Bloomberg Billionaires Index. Jooste has sold some racehorses.
Steinhoff said in a December presentation that lines of credit were increasingly being withdrawn or suspended and it sold a stake in South African investment holding company PSG Group Ltd., raising about $345 million.
— With assistance by Janice Kew, and Richard Weiss