Does the mere thought of a public marriage proposal make your cheeks turn red and leave your stomach kind of queasy?
Understandably, having a bunch of strangers' eyes on you during such an emotional and personal moment can be petrifying ― especially if you identify as an introvert. Many people find these big public displays of affection romantic, but others would much prefer something low-key and intimate, like getting engaged at home.
Kelsey Vick, who got engaged at her family's barn in Flower Mound, Texas, in 2015, said it was the perfect choice for her and her now-husband Ryan.
"Ryan and I got to be alone and have our time to soak in the moment, laugh, cry and for me to process through the shock!" she told HuffPost in an email. "If we were in public, I probably wouldn't have felt as comfortable if people were around or watching."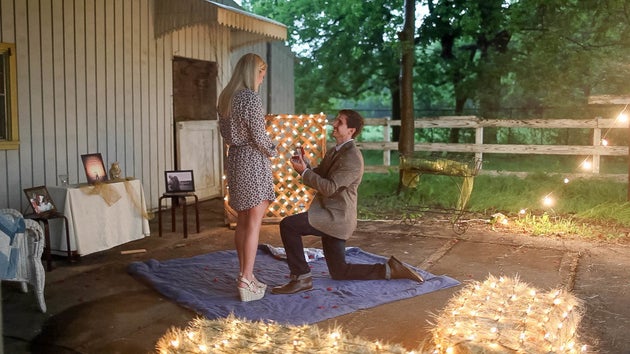 Another advantage of an at-home proposal? The element of surprise is heightened because the location is unassuming. With a grand proposal, you might be tipped off by the out-of-the-ordinary circumstances.
"It was completely unexpected and organic! I wasn't anxiously wondering if this was 'the moment,'" Alyssa Marie Long, who got engaged in her living room in 2016, told HuffPost. "I just thought it was another date night at home!"
Initially, Long, a wedding photographer in Southern California, had thought she wanted a big, public proposal. But after getting engaged in her living room, she says she wouldn't have it any other way.
"Having that moment to focus on each other without any distractions was a moment we will cherish forever," Long told HuffPost. "There's something special about making a huge commitment in the space where you have been growing together for years. There's no place better than home, right?"
Below, more photos of at-home proposal moments that are romantic in the most low-key way:
Alyssa Marie Photography via How He Asked

Roberta Perrone

Chennergy

Lyndsey Paige Photography via How He Asked

@hificookies

Heather Kincaid

Jesse Legg via How He Asked

Kevin Lowery Photography

Daniel Cao Photography via How He Asked

Kaleigh Brownell and Ellen Beltran

Kevin Warn | Candid Proposal

Laura Robinson Photography via How He Asked

Emily Nicole Photo

Kara Kincaid

Jesscaste Photography via How He Asked

How He Asked

Jamie Delaine

Marianne Lucille Photography

We Are The Parsons

Jessica Janae Photography via How He Asked