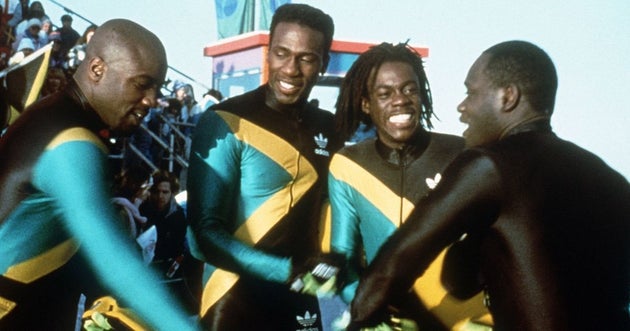 Fans attending the 2018 Winter Olympics in PyeongChang, South Korea, have been surprised to learn that one of the real-life Olympic athletes who inspired "Cool Runnings" is actually in town to enjoy the Games.
According to Yonhap News, Dudley Stokes is currently the boss of the Jamaican bobsleigh team. Stokes, 56, was the first Jamaican army officer to ride the bobsleigh in the mid 1980s, and he competed at the 1988 Olympics with his brother, Chris Stokes.
What most fans didn't know, was that he had no choice in the matter. "I was forced to follow orders," he has revealed, "because I was a soldier." He also never used the famous chant in the film, and says that in fact "a lot of the movie was fictional".
In 2014, in a Reddit interview, Stokes said: "'Cool Runnings' is Disney's movie. There is very little that really happened in real life." For example: "the athletes in the film appear to be completely outcasts, but these athletes actually competed in the 1988 Summer Olympics in Seoul".
According to the Jamaican Bobsleigh Federation, bobsleigh was introduced to Jamaica by two Americans living there – after they witnessed cart-racing in Jamaica and realised it was very similar to a bobsleigh. They pitched the idea to Jamaica's Olympic Association, but most Jamaican athletes weren't keen to learn bobsleigh. That's when the army stepped in, and Dudley Stokes was ordered to do his bit for his country.
The athletes in the movie train in really tough conditions, but in reality the 1988 Jamaican bobsleigh team were sent to Lake Placid in the U.S. state of New York, as well as Austria, to be trained by top U.S. and Austrian coaches.
Unlike the final scene of the movie, in which the athletes run to the finish line with a sled, at the real Olympics the Jamaican athletes ended up trapped under their broken sled; stadium staff took it to the finish line.