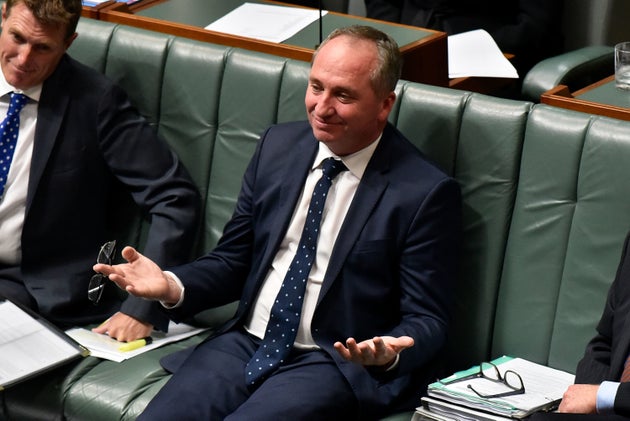 Ministers in the Australian government will be explicitly banned from having "sexual relations" with their staff in the wake of a sex scandal that has engulfed Parliament and has the potential to bring down Prime Minister Malcolm Turnbull.
Last week, national media reports revealed that Australia's deputy prime minister, Barnaby Joyce ― a married man with four daughters ― was involved in a monthslong affair with one of his former staff members, Vikki Campion, who is now pregnant and expecting a baby in April. The pair moved in together after Joyce separated from his wife last year. Journalists and politicians have described the affair as an open secret.
The recent reports exposed how Campion was shunted between the offices of different government politicians as the affair became more widely known, provoking claims of nepotism and favoritism. Ministers' relatives and partners are not allowed to be appointed to executive government offices without approval from the prime minister.
Joyce has been under pressure to resign, and Turnbull under pressure to force him to leave, for the last two weeks. However, the governing coalition that includes both Turnbull and Joyce's parties has only a one-seat majority in Parliament. If Joyce resigns, his party might not win the election for his vacated seat, and their coalition could lose the majority.
Turnbull is due to fly to the United States for a meeting with U.S. President Donald Trump next week, which would have left Joyce filling in as acting prime minister. But Turnbull announced Thursday that Joyce would be taking a week of leave instead and that another government member would take the role.
Later on Thursday, Turnbull made a second surprise statement, announcing that the ministerial code would be updated to expressly forbid sexual relations between ministers and staff. (American lawmakers supported a similar initiative last week.)
When some Australian members of Parliament floated such a plan after the initial Joyce revelations, Foreign Minister Julie Bishop commented, "the Government has no business interfering into people's personal lives and we wouldn't want to cross the line" ― but by Thursday, Turnbull had seemingly come around to the concept when he said he would add new lines to the ministerial standards.
"Ministers, regardless of whether they are married or single, must not engage in sexual relations with their staff. Doing so will constitute a breach of the standards," Turnbull said.
"There was a different culture here that had gone on for a long time. I think many women in this building, who work in this building, understand very powerfully what I am saying," he added. "This is a change I am making from today. You can argue it should have been made years ago, but you can't live your life backwards."
Turnbull all but signaled that he would prefer for Joyce to resign, telling a packed media conference that Joyce had inflicted "terrible hurt and humiliation" on his family and new partner, had made "a shocking error of judgment" and "set off a world of woe for those women and appalled all of us."
Joyce, meanwhile, called Turnbull's response to the scandal "inept" in an extraordinary press conference on Friday morning.
"Comments by the prime minister yesterday at his press conference, with regards to that, I have to say that, in many instances ... they caused further harm," he said. "I believe they were in many instances inept and most definitely in many instances unnecessary."
Joyce has been embroiled in other controversies, most notably for the revelation that he had Kiwi citizenship, which led to his expulsion from Parliament and ineligibility to run for election (the Australian Constitution bans dual citizens from running for election). Joyce renounced his Kiwi citizenship and successfully regained his seat, returning to Parliament late last year.
He also attracted worldwide attention after threatening toeuthanize Johnny Depp's dogs when the actor's then-wife Amber Heard smuggled two Yorkshire terriers into Australia while filming the latest "Pirates of the Caribbean" film in 2015.