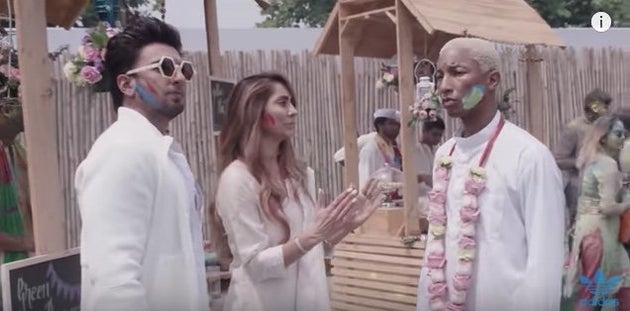 U.S. rapper and producer Pharrell Williams visited India for the first time last week to promote a new collection of Adidas sneakers and clothing inspired by the Holi spring festival.
The Adidas Hu Holi collection includes sneakers, shirts, hoodies and shorts that come in a variety of bright colours. The company says the collection drew its influence from the "magic and beauty" of Holi celebrations in India and Nepal.
Yet although Williams did learn about the spiritual symbolism behind Holi during his trip, images of him looking slightly uncomfortable during the celebration coincided with accusations that German-based Adidas is commercialising a beloved Hindu tradition to sell shoes.
Watch Pharrell Williams play Holi in the Adidas video below.
Some people pointed out that Adidas' new collection treads rather closely to cultural appropriation. After all, a German company is using a U.S. celebrity to sell $250 (~R3,000) shoes that explicitly use imagery from a Hindu celebration.
And as at least one person noted, it would be easy (and much cheaper) to get that same "Holi-inspired" look by wearing white shoes and clothes to a real Holi event.
Asked to respond to the criticism that the collection is appropriating Holi, an Adidas spokesperson told HuffPost that "Hu was founded upon the principles of unity, equality, humanity and colour with an intention to explore humanity and celebrate diversity around the world. Together, Adidas Originals and Pharrell Williams use the platform to help tell stories of others from around the globe".
Suhag A Shukla, executive director of the advocacy organisation Hindu American Foundation, told HuffPost she believes Adidas is definitely commercialising a religious festival, but said calling it cultural appropriation might be a stretch. The company openly acknowledges the Hindu foundations of the holiday, Shukla said, and Williams takes time to learn about the holiday firsthand from Hindus.
She said other companies, such as The Color Run, use Holi's imagery but don't give the festival enough credit.
"I don't necessarily see a Holi-themed sports apparel line any differently than products that might feature Christmas, Diwali or Hanukkah," Shukla told HuffPost. "If the usage is respectful and culturally appropriate, with a solid nod to roots and meaning, there exists the potential to increase understanding and appreciation, and diversify fashion and beauty aesthetics.
"Holi is a holiday in which differences are shed and celebrated, and [Pharrell] seems to express a similar intent for his line," she added.
Putting questions of corporate cultural appropriation aside, some Twitter users joked that the "Happy" singer didn't appear too happy about participating in the joyous Hindu festival, which celebrates the triumph of good over evil.
Ranveer Singh, a well-known Bollywood star who promotes Adidas in India, hosted a Holi event in Mumbai with Anusha Dandekar, a TV presenter, and explained Holi's spiritual traditions and customs to Williams.
In an Adidas video of the event, Williams can be seen occasionally cracking a smile. But some Twitter users joked that he looked like he just wasn't feeling the event, pointing out the stark contrast between Singh and Dandekar's energy and laughter, and Williams' stoic demeanour.
At one point, Singh showed off some dance moves. The crowd went wild for the actor, but when the camera pans over, viewers can see Williams watching the raucous party with the stiff smile of an awkward dinner guest.
Shukla of the Hindu American Foundation told HuffPost that when she saw the image of Williams at the Holi party, she saw someone who was "taking it all in".
"I remember my first Holi in India. I probably had the same look on my face," Shukla said. "Holi there is at once beautiful and overwhelming, and you'd better be ready to duck!"
In an interview with Indian news channel NDTV, Williams praised India's "incredible" and "fascinating" culture, and said he's trying to learn more about the country. He said he knows about a couple of Hindu deities.
Williams said his goal promoting the Adidas collection is to "give diversity as many opportunities to present itself as possible".
"Some of the most beautiful people on the planet are, in my opinion, from Africa and from India, and there's from light to dark, dark to light in both of those places. They're incredibly vivid human beings to begin with, but then their customs and the aesthetic of their customs are just as beautiful," he said. "The Holi festival is the perfect example – people are literally throwing colour around."