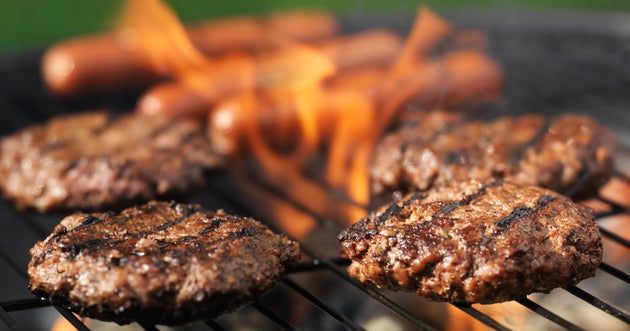 Braai season is a year-round occasion — which means that more than likely, it's time you give your grill a good scrub.
Dirty grills are no good for obvious reasons. Leftover bits of food can get stuck to food you're cooking, ruining the taste, while old grease and fat can spread harmful bacteria. But beware of cleaning your grill with a brush — stray metallic bristles have been swallowed by unsuspecting diners, causing all sorts of health problems.
Luckily, SFGate has found the easiest — and safest — method to thoroughly clean your grill. All it takes is a towel, some tongs, a few sheets of aluminium foil and a little hard work.
Use an old towel or rag (make sure it's dry) to wipe down your grill and remove any large chunks of grit and grime from your last use.
Tightly cover the top of your grill grates with one or two sheets of aluminium foil and, if you're using a gas braai turn the grill on high — alternatively, build a hot charcoal fire. Shut your grill and leave it covered for about 25 minutes.
Remove from the heat with tongs and let your grill cool off. Then remove the foil. Use your old towel to wipe away the grime, which by now should have turned into ash.
And voilà! You've got a clean grill, free of health risks and unwanted food bits. And in the future, after using the grill again, The Daily Meal recommends balling up some more aluminium foil and scrubbing each grill grate individually while it's still warm to prevent further buildup.
If you don't have any aluminium foil around, try ultimate grill authority Steven Raichlen's advice. He previously gave HuffPost these tips, relating specifically to gas braais:
"Evict any spiders or other nesting critters and clear out the cobwebs or other debris from the manifolds, burner valves, connectors, etc. Compressed air (available canned if you don't own an air compressor) is an efficient way to do this. Empty and clean the grease trap or drip pan; replace any disposables, such as foil pans, if needed."
"Use a commercial grill cleaner to clean the interior and any internal parts, such as baffles, flavouriser bars, etc. If your grill is polished stainless steel, use a commercial stainless steel cleaner on the exterior, or wipe it down with a soft cloth using a mixture of water, mild dish soap, and white vinegar. Replace ceramic briquettes as needed."
Read the rest of Raichlen's tips and you'll have the cleanest grill in no time!
Happy braaiing!
iI