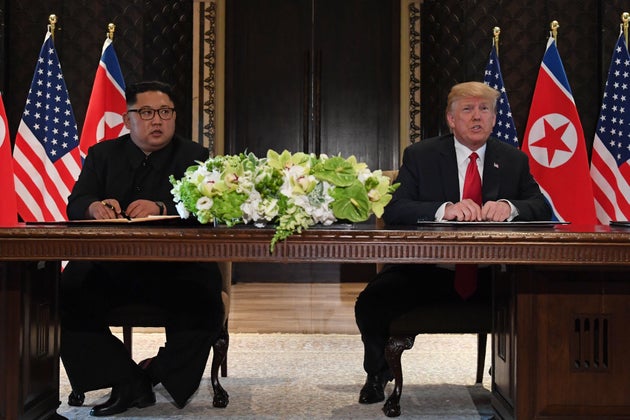 SINGAPORE ― After hours of closed-door discussions in a Singapore hotel on Tuesday, President Donald Trump and North Korean leader Kim Jong Un concluded their historic meeting with the signing of a joint agreement.
The substance of the memorandum remains unknown, but Trump called it a "very important" and "comprehensive" document, adding that it would be discussed "at great length."
"Today we had a historic meeting and decided to leave the past behind," Kim said. "We are about to sign a historic document. The world will see a major change."
The highly anticipated summit began a few minutes after 9 a.m. local time with two world leaders meeting at the steps of Capella Hotel.
"Nice to meet you, Mr. President," Kim was overheard telling Trump. It marked the first time in history that a North Korean leader was meeting with a sitting U.S. president.
"We're going to have a great discussion," Trump said shortly after the two shook hands. "It's my honor, and we're going to have a terrific relationship."
"Well, it was not easy to get here," Kim said through an interpreter, before noting the two were able to overcome "obstacles" to start the summit.
The two leaders first met privately with interpreters, and then with members of their respective delegations. They then had a working lunch (prawn cocktail, Korean stuffed cucumber and beef ribs were on the menu) before taking a quick stroll through the hotel's grounds.
"I think better than anybody could've expected," Trump told reporters at the time, as Kim smiled beside him. "Top of the line, really good."