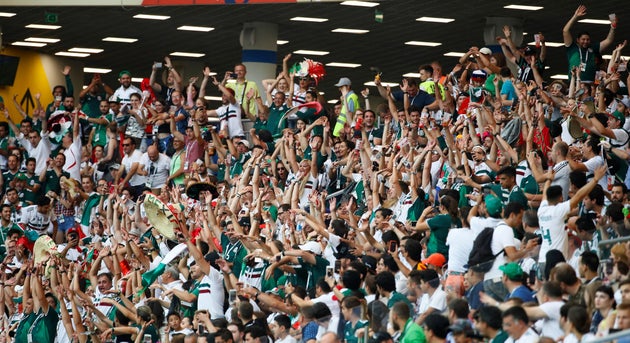 Homophobic chanting at football matches could be made illegal in the U.K. as part of a campaign to make the sport "truly open to everyone".
In a joint effort, retired Welsh rugby star Gareth Thomas and English Conservative Party MP Damian Collins are seeking to extend the 1991 Football Offences Act — which already bans indecent and "racialist" chanting — to outlaw chants and indecent gestures which reference sexual orientation or gender identity.
The draft bill will be launched in Westminster on Monday, with the chair of the Football Association's inclusion advisory board calling it "valuable action for the government to take".
It comes after Fifa fined the Mexican Football Federation 10,000 Swiss francs for singing homophobic chants during Mexico's World Cup match against Germany last week.
Collins — who chairs the U.K. government's Digital, Culture, Media and Sport Committee — told HuffPost it is "wrong" that homophobic abuse is not treated in the same way as racist abuse under current laws.
"The Football Offences Act makes it absolutely clear that racist chanting in football grounds is a criminal offence, but it doesn't mention homophobia at all, and we think that needs to be corrected," Collins said.
"There is a concern, with football in particular, that no professional footballers in the top leagues in the U.K. have felt they have been able to come out, and that suggests there is a problem within the game, a culture within the game, that means that some footballers find it impossible to be who they are and be open about their life."
Former Wales rugby captain Thomas, who was named Stonewall's Hero of the Year in 2010, is thought to be the most high-profile U.K. sportsman to have revealed that he is gay, coming out in 2009 — after his playing career had ended.
"My career life was very public, but behind what happened on television and wearing my Wales rugby jersey with pride, I was slowly dying," he told the BBC in 2014.
"I'm not sure if it was because I was gay that I felt such depression; it was just that I was lying to everyone."
Last year, he made the BBC documentary "Gareth Thomas v Homophobia, Hate in the Beautiful Game", which exposed the prejudices that still go on in football.