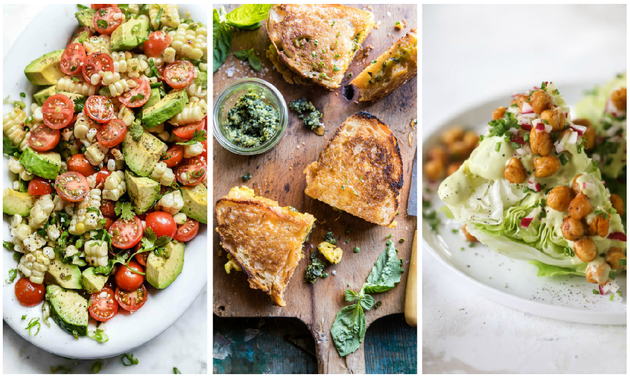 Everymonth, we round up the 10 most-liked recipes from the HuffPost Taste Instagram account. Our lists have been dominated by comfort foods and chocolatey desserts of late, but we're finally starting to see a shift as the northern hemisphere summer turns into a scorcher.
Warmer weather in the U.S. has made Instagrammers begin to crave avocado salads, vegetable-packed summer minestrones, towering wedge salads and Neapolitan ice cream pops.
Naturally, there are still some pancakes, doughnuts and breakfast grilled cheeses in the mix; deliciousness still comes in hot and cold.
Check out the 10 most-liked foods from June below, and then go follow HuffPost Taste on Instagram.
10

Simplest Zucchini Parmesan Pasta

Half Baked Harvest

9

Neapolitan Ice Cream Pops

Completely Delicious

The Cookie Rookie

7

Old-Fashioned Sour Cream Doughnuts

Handle The Heat

6

Crispy Chickpea Wedge Salad with Avocado Ranch

How Sweet Eats

5

Fluffy Pancakes Stuffed with Cheese

Lady and Pups

4

Summer Minestrone with Turkey Meatballs

Damn Delicious

3

Breakfast Grilled Cheese with Soft Scrambled Eggs and Pesto

Half Baked Harvest

2

Garlic Herb Spaghetti with Chicken Meatballs

Pinch Of Yum

1

Grilled Corn Salad with Tomato and Avocado

Foodie Crush