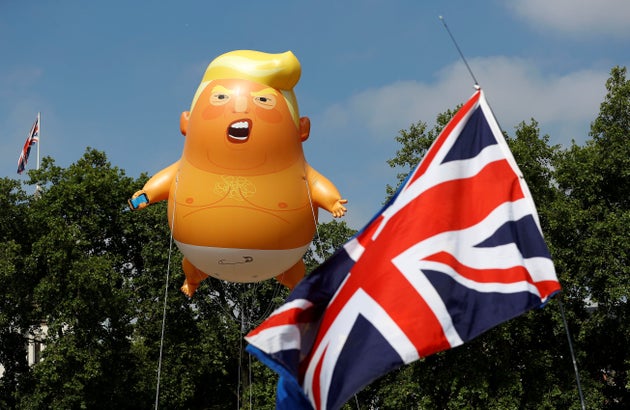 An enormous blimp depicting Donald Trump as a baby throwing a temper tantrum set sail over London on Friday morning.
The blimp flew over Britain's Parliament Square for around two hours. It's the culmination of a weeks-long online fundraising campaign from a group of British activists.
The U.S. president arrived in the U.K. on Thursday, but is largely circumventing the capital and the massive protests against him. He paid a brief visit to the U.S. ambassador's central London residence before taking a helicopter to Blenheim Palace ― the stately home in which Winston Churchill was born ― for a lavish dinner event with British prime minister Theresa May.
"I guess when they put out blimps to make me feel unwelcome, no reason for me to go to London," Trump told U.K. tabloid The Sun in an interview that was published on Thursday, in which he also sharply criticised May's Brexit plans.
HuffPost UK's Chris York was on the scene as the blimp was being inflated.
"Donald Trump is a big, angry baby with a fragile ego and tiny hands," the blimp's fundraising page reads. "We want to make sure he knows that all of Britain is looking down on him and laughing at him."
200,000 people are expected to attend Friday's protests. The less-than-warm welcome shouldn't come as a shock to Trump, who is extremely unpopular in the U.K. and has had public spats with both May and London mayor Sadiq Khan. He also sparked ire in the U.K. last year when he retweeted an infamous British hate-group leader. A recent YouGov poll found that 67 percent of Brits disapprove of the U.S. president, while a mere 11 percent have positive feelings toward him.
Follow HuffPost UK's live coverage of the blimp and the protests.