Jack Gescheidt, TreeSpritProject.com

When I was about 10, my parents were afraid that if I fell off a boat I might drown, so they enrolled me in a swim class at the local YMCA (Westfield, New Jersey). In the indoor-pool all-boys class, nudity was mandatory for the students. I loved the body freedom and the equality with my fellow students.
As soon as I was old enough not to need a babysitter, my parents would leave me alone when they went out for the evening. Whenever they left, as soon as their car was out of sight, I'd run to my room, ditch my clothes, and return to the living room or kitchen to spend the rest of the evening gloriously naked. I continued going nude around the house when my parents were out, and in my room after they had gone to bed. I remember warm summer nights lying on my bed without sheets as balmy breezes from the open windows wafted across my entire body. I felt wonderful!
I longed to repeat the feeling of freedom I'd had at the Y but had no opportunity for 12 years, until at age of 22 I moved to California to attend graduate school. A friend a year ahead of me showed some slides of the San Francisco Bay Area, one showing a road sign for which he narrated. "Below this sign is a nude beach." I memorised the sign as he flipped to the next slide. Soon I suggested to my wife that we go to the coast and, without saying why, I took her to that nude beach, Bonny Doon. When we arrived on the beach, I spread our blanket and took off my clothes. For the first time since my teen years, I was delighted to feel the breezes blowing over my entire body! I knew I was home.
I came to know myself as a naturist. To me, this is like a nudist but with more: it means accepting 100% of my body from head to toe, with no parts to be ashamed of or hidden away. In my religious moments, I consider the human body to be God's divine creation, far superior to any man-made clothing, deserving neither shame nor degrading exploitation. I feel closer to Mother Nature when I'm outdoors without the barrier of clothing. In weather pleasant for nudity, clothing feels oppressive and confining.
In 1988 I founded the Bay Area Naturists and organised the first annual clean-up at Bonny Doon Beach. We just finished our 30th consecutive clean-up in 2017. Over the years the Santa Cruz County Board of Supervisors has acknowledged us naturists as a responsible user community at the beach.
Once when my girlfriend and I were playing Scrabble nude on my back-yard patio in suburban San Jose, the wind picked up our score sheet and blew it around the corner of the house. I went chasing after it and encountered my neighbor chasing her dog chasing my cat around the side of my house. Upon seeing me, she slapped her hand over her eyes faster than if she had witnessed a nuclear explosion. She took her dog and beat a hasty retreat! She was vastly more embarrassed by the event than I was, and never mentioned it.
During my 40-year career as a Silicon Valley software engineer, I spent as much of my free time unclothed as possible. I was always nude at home but of course dressed professionally for the office. Summer vacations included trips to naturist resorts, beaches, and cruises. I never ran out of options; in fact, I never had enough time to follow every opportunity that presented itself.
Now in my retirement, I live part-time in a nudist resort in central Florida that offers a rich program of activities. My life there is like most people's, except I do almost everything nude: I wash the car, take out the garbage, and bring in the mail; I go out to dinner with friends or invite friends over; I go for a walk around the lake to photograph the birds and the sunset; I swim in the pool and socialise with friends while we listen to the band playing poolside; I play a game of Scrabble in the sunshine; and I play Tuesday Night Trivia in the clubhouse. About the only time I put on clothes is to leave the grounds to go shopping or tend to business.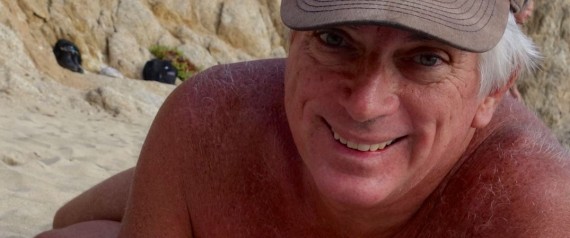 All my vacation plans are clothing-free. For example, in the summer of 2017 I joined photographer Jack Gescheidt and his TreeSpirit Project on a tour of the giant redwood trees of northern California (as pictured at the top). As a self-acknowledged tree-hugger, I felt right at home with other naturists as we hugged trees which are older and taller than most man-made structures, with no fabric to get in the way.
Some people who've never been to naturist resorts think they're essentially beauty pageants where people show off their perfect bodies. Once I invited a friend to go with me and he replied, "Oh, I don't have the body for that. Maybe when I lose 20 pounds." He missed a great opportunity to see people of all shapes and sizes being happy with who they are.
Some think that a naturist resort is a sexually charged place to pick up sex partners or even have an orgy. But true naturists agree that sexuality is a private matter between consenting adults. While we make friends at naturist events, and even begin romances, those are based on discovering common interests and values, as they are anywhere. Early in my dating career I quipped, "The way to find people who like to do what you like to do is to do what you like to do and look around to see who else is doing it." Following my own advice, most of my significant long-term relationships have been with people met in naturist contexts.
I do enjoy my happy naked life.
Life Less Ordinary is a weekly blog series from HuffPost UK that showcases weird and wonderful life experiences. If you've got something extraordinary to share please email ukblogteam@huffingtonpost.com with LLO in the subject line. To read more from the series, visit our dedicated page.